Made-in Cookware is a high-quality cookware that is quite popular in the united states and abroad. Do you own a Made-in cookware and are wondering where it is made?
Allow me to take you on a brief ride explaining where each made-in cookware is made, and how the company chooses where to manufacture its products.
I will also tell you about who owns Made-in and where it is made in the United States.
Where Is Made-In Cookware Made?
Made-in sources its products from different parts of the world to provide exceptional performance for your culinary needs.
The stainless steel and non-stick pots and pans are made in both the United States and Italy.
This allows Made-In to offer high-quality products, as both countries are known for their expertise in stainless steel and non-stick manufacturing.
In the united states, it is manufactured in three different locations- Kentucky, Pennslyvania, Illinois, and Tennessee.
Below is the road map of manufacturing Made-in cookware in the united states (source: Fox Business).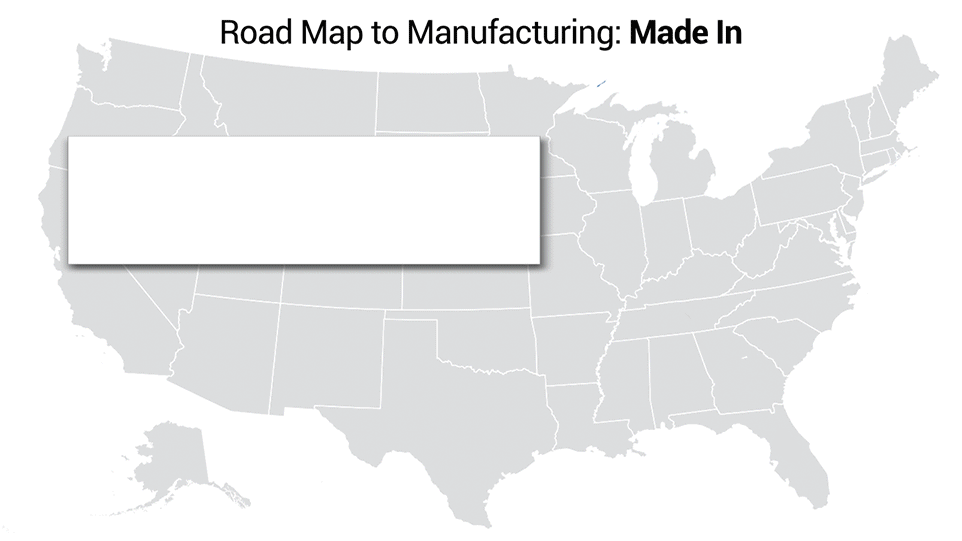 These items benefit from the long-standing tradition of American craftsmanship and skill in metalworks, granting you confidence in your cookware's performance and durability.
Made-In bakeware, carbon steel, copper, and enameled cast iron cookware are made in France.
Made-in also partners with a 5th-generation family-owned knife-making business in Thiers, France.
Made-in produces its plate ware in Stoke-on-Trent, England. Known as the "Potteries," this part of England has been a center for ceramics production for over two centuries.
These collaborations with companies in Italy, France, and England ensure that Made-In's products are created by skilled craftsmen.
Also read: Is Cookware Made in China Safe?
Made-in Product and its Manufacturing Country
Here is a table listing the main Made-In products and their respective manufacturing countries:
| Made-In Product | Made-In Product |
| --- | --- |
| Stainless Steel Pots and Pans | United States and Italy |
| Non-Stick Pots and Pans | United States and Italy |
| Kitchen Knives | France |
| Bakeware | France |
| Carbon Steel | France |
| Copper Cookware | France |
| Enameled Cast Iron | France |
| Dinnerware (Plates, Platters, Bowls) | England |
For more details regarding specific cookware products, you can visit https://madeincookware.com/
How Does Made-In Choose Where To Manufacture Its Cookware
Made-In Cookware chooses manufacturing locations based on the quality of materials, collaboration with professional chefs, craftsmanship, and the direct-to-consumer business model.
First, they prioritize the quality of materials used in each product. Made-In seeks out top-notch stainless steel, copper, carbon steel, ceramic, and silicon.
Another factor in Made-In's decision-making process is their collaboration with professional chefs.
By working closely with culinary experts, Made-In can create cookware that meets the high standards these chefs demand in their kitchens.
Craftsmanship plays a vital role in determining where Made-In products are manufactured.
They meticulously choose factories in the United States, Italy, France, and England, known for generations of experience and expertise in producing exceptional cookware.
Watch the video below for a detailed understanding of Made-in Cookwares craftsmanship:
Made-In operates on a "direct consumer" model. This helps the company to provide cookware at affordable prices.
By cutting out middlemen and retail markups, they can invest in better materials and craftsmanship without passing on additional costs to their customers.
Also read: Where Is Kutime Cookware Made?

Which Made-In Cookware Is Made In the USA?
When it comes to Made In Cookware, a variety of their products are manufactured in the United States.
As mentioned earlier, their stainless steel and non-stick pots and pans are made across two countries, the United States and Italy.
The American-made stainless steel cookware is produced in Pennsylvania, Kentucky, Illinois, and Tennessee.
The easiest way to find out which cookware is made in the united states is to search on the USA collection page on the official Made-in website.
Recently, the company has partnered with Habitat for Humanity Restores in the United States to repurpose over 2,000 pans and counting.
This way, they have contributed to the environmental cause and also given back to the community.
Made In Cookware is committed to producing high-quality products while supporting American craftsmanship.
The stainless steel cookware lines are a testament to the brand's commitment to the united states economy.
Watch an honest review after three years of using Made-in Cookware here:
And if you're looking for other American-made brands for your cookware needs, there are options like All-Clad, Heritage Steel, and Lodge Cast Iron, which also produce high-quality products.
Who Owns Made-In Cookware?
Made In Cookware is a direct-to-consumer kitchenware company owned and founded by Bradford Malt and Jake Kalick, who have a partnership with Top Chef, Tom Colicchio.
Born from a family-run restaurant supply business, the company was started in 2017 in Austin, Texas.
The goal of Made-in is to bring high-performance cookware to home cooks.
Today, they continue to design innovative products by working with professional chefs and partnering with factories across the United States and Europe for manufacturing.
Frequently Asked Questions
Here are some frequently asked questions:
Which Cookware Brands Compete With Made In Cookware?
Many cookware brands compete with Made In Cookware, such as All-Clad, Calphalon, and Le Creuset.
These brands offer high-quality cookware products with their unique features and constructions.
Each brand has its strengths and comes with the promise of good quality. In the end, it depends on your budget and preference.
Where Can I Buy Made-in Cookware?
You can buy Made-in cookware from their official website.
Made-in cookware is also available on other online platforms like Amazon and specialty kitchen stores.
You can also purchase offline at the company's store in Austin, Texas.
What's Special About Made In Cookware?
Made In Cookware is known for its high quality.
Most of its products are made in the USA, ensuring strict quality control, while some pieces are crafted in France or Italy.
The brand offers professional-grade cookware at competitive prices.
Made In is transparent about its sourcing and manufacturing process, which further adds to its reputation as a reliable and trustworthy option.
What's Not So Great About Made-In Cookware?
While Made In Cookware has many positive aspects, some people may find a few drawbacks.
Firstly, Made In products can be quite expensive, especially for those on a budget.
Also, the brand largely offers stainless steel and non-stick cookware, limiting the range of cookware material.
Some users might also face a learning curve when using Made In cookware, particularly with stainless steel options, as they require specific cooking techniques to prevent food from sticking.
Are Made-in Cookware Non-Toxic?
Yes, Made In cookware is non-toxic. Their non-stick cookware is made without PFOA.
All the cookware is safe for food consumption. There is no leaching of harmful substances into your food. 
You can confidently use Made In Cookware, knowing that it maintains high safety and quality standards for your health.
Other articles you may also like: